Air Release Clean Water Valves 
Air Release Valves, sometimes referred to as "small orifice valves," are often fitted at the highest point on a pipeline to continually release unwanted air during system operation to protect against unwanted surges and maintain system efficiency.
Upto 740 psig (5100 kPa).
Benefits and features
The valve body and cover shall be constructed of ASTM A126 Class B cast iron for working pressures up to 300 psig. Higher pressure rated valves shall be constructed of ASTM A536 Grade 65-45-12 ductile iron.
Unconditionally guaranteed T316 stainless steel floats
Simple Lever and Compound Lever Models
Stainless steel 316 internal trim
Resilient seating for positive shutoff
Performance proven for over 40 years
All Air (Release, Vacuum, etc) Valves installed in vaults or flood prone locations shall include an inflow preventer to
prevent the introduction of contaminated water through the air valve outlet. The inflow preventer shall allow the admittance
and exhausting of air while preventing contaminated water from entering during normal operating conditions. The inflow
preventer shall be flow tested by an independent third party to certify performance. The third party shall be an approved
testing lab of the American Society of Sanitary Engineers.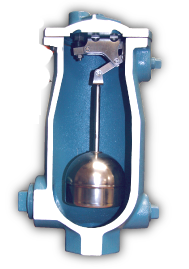 Air/Vacuum Clean Water Valves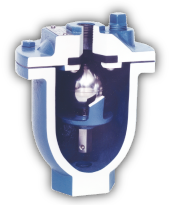 Air/Vacuum Wastewater Valves